What is FOMS?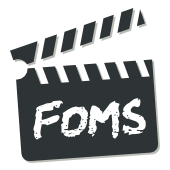 FOMS is the Foundations of Open Media Standards and Software developer workshop, run in un-conference style with organized sessions determined by the participants.
It is a meetup of software developers and tinkerers of all stripes who gather to collaborate, code, and lay plans for future open video technologies and standards.
FOMS provides a unique environment where open source media technology developers, Web developers, browser vendors, and media standards developers meet and discuss open media software, including the Web platform as it relates to multimedia applications.
In its 13th year, FOMS is moving from San Francisco to New York to extend its reach to new communities again.
We'd particularly like to encourage open source media software developers to participate to gain further breadth in topics over the two days of this year's conference.
For more information see the Schedule page.
Join the mailing list
Consider joining the foms mailing list for this and future FOMS events.
Interested in attending?
Register through Eventbrite.
Then join the foms mailing list and drop us a line about topics you're interested in.
There are also a couple of travel sponsorships available for open source media software developers. Please email the organisers for more information.
Location
LinkedIn? has offered up their beautiful space for us to use in the world famous Empire State Building.
LinkedIn? Corporation 350 5th Avenue New York, NY 10118
Details for getting into the building to follow.
Previous FOMS